This article is part of a series on Female entrepreneurship. This week, our guest contributors from Women VC analyse 2020 trends for women led funds and their critical role in increasing gender equity in venture capital deployment towards companies with one or more female founders. This article is the executive summary of a very thorough report, you may find the link at the end of the post.
By Women in VC
Here's the inconvenient truth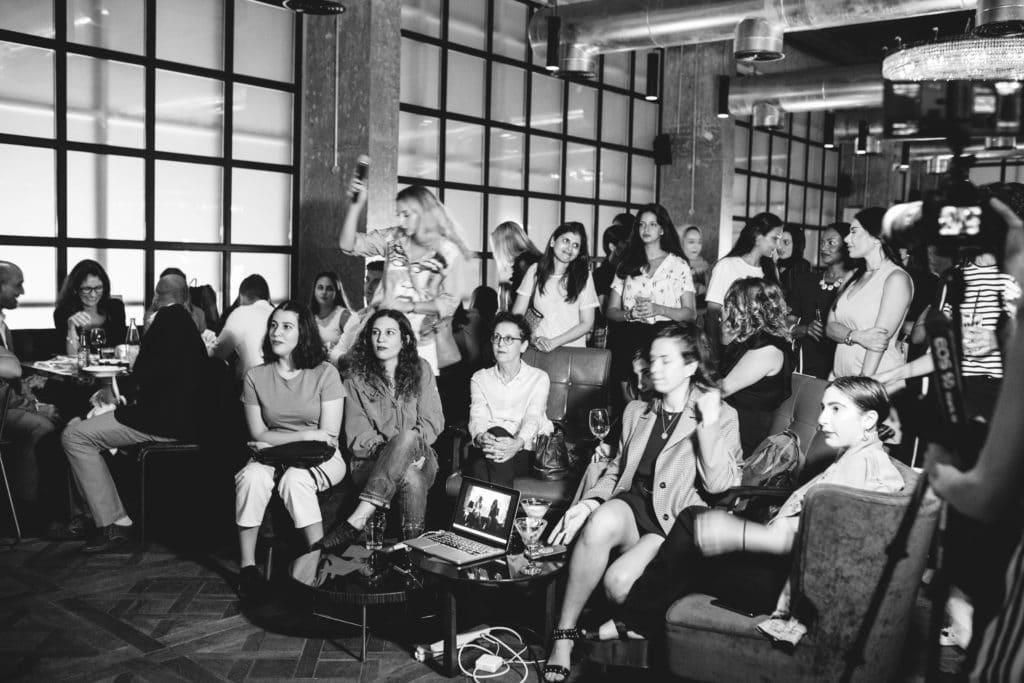 The funding stats for female founders are not improving. Even with an influx of initiatives aimed at building awareness and closing the funding gap, women are still being denied equitable access to capital when starting their own companies. How do we fix this? While the focus on female founders is a meaningful first step, it has not proven to be a scalable strategy for change. We need to be pushing for more. We need to be looking upstream, where there is more leverage and more potential for impact.
We need to be talking about, and investing in, female fund managers.
Let's break down why
A recent All Raise report showed that female founders are 2X more likely to invest in startups with one female founder, and more than 3X more likely to invest in a female CEO. That means any investment in women-led funds stands to have a significantly amplified impact on female founders downstream. It will shift what types of founders are getting funded, at scale, what products and services are brought to market, and who is being served by them. The potential returns are enormous.
According to a study in Harvard Business Review, VC firms that increased the number of female partners by 10% experienced a 1.5% increase in fund returns each year, plus 9.7% more profitable exits.
Generally speaking, we also know that venture capital is the fuel that allows companies to scale at their earliest stages. It's the springboard that puts businesses on the trajectory to later stage growth capital and, eventually, even public market investments.
In other words, investing in female fund managers is the most effective action we can take, today, to address the vast inequality in how capital is deployed to founders.
Through Women in VC, we know this reality well. We are the world's largest community for female investors, spanning 2,700+ women across more than 1,700+ venture funds in 160+ cities and 55+ countries.
We've watched the explosive growth of women-led funds1—up 15x in the last decade, alone—and we know these women, and their funds, have the talent and the tenacity to pave a new path in venture capital.
We also know, though, that they need more support than they're currently getting. They need more access to capital, mentorship, and industry networks.
This paints a picture of both opportunity and urgency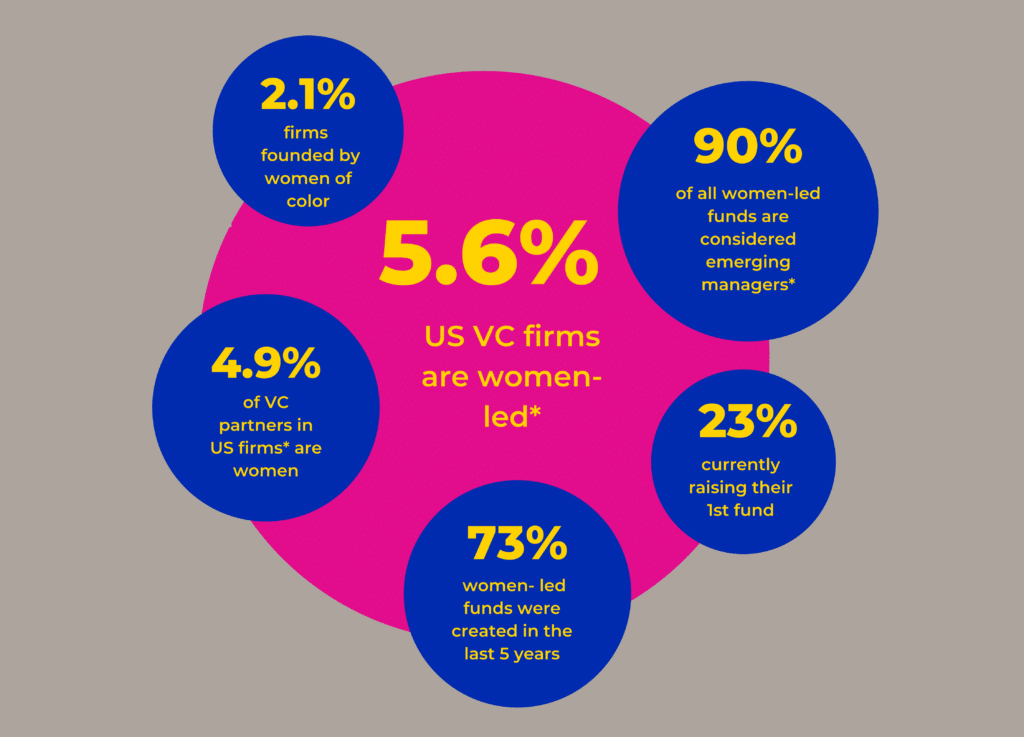 Women-led fund*: Funds with at least one founding General Partner (or equivalent title) who identifies as female. We believe her to have a stake in the management company and carry that is commensurate to her male counterparts.
Based on proprietary Women in VC dataset of women-led firms in the US (275), against Preqin data on US-based VC Funds as of Q3'20 (4,888 firms), defined as firms that manage a minimum of $1MM in private funds
Based on proprietary Women in VC dataset of of women Partners in the US (652), against Preqin data on US-based VC Partners as of Q3'20 (13,219 self-reported Partners or equivalent titles). Emerging manager: Raising or managing either Fund I, II or III within their firm's franchise; venture funds typically under $100MM.
Getting in on the ground floor of emerging managers is known to represent a compelling financial opportunity, but funds require time to prove themselves. Even under the most ideal circumstances, it takes years to fundraise, establish a viable track record, and build a brand—but these women are facing the additional headwinds of persistent industry-wide bias and economic uncertainty related to COVID-19.
Additionally, with hundreds of new managers coming to market and a virtual fundraising cycle, it's an incredibly challenging time for small and emerging funds to raise capital. If these women-led firms are unable to close their first fund, or raise sequential funds to continue building their franchise, the industry is at risk of losing all the growth and progress that women-led firms have made over the past 5 years.
The venture community must do the work, now, to address the challenges attached to unconscious beliefs, attitudes, and stereotypes.
We also need to get comfortable investing in "non-traditional" fund managers that may not have a track record. The women paving the way come from all kinds of backgrounds—they're spin-outs from top firms, former founders, professional angels, early employees at tech companies, former operators or customers, and more. This represents an exciting opportunity and a flashpoint for major and necessary change.
When women control the capital, it empowers them to invest in the teams, markets, and companies they see as transformative for the coming generation.
It's also a meaningful step to begin overcoming the wealth gap, but if we continue at the current pace, it will take female fund managers 200 years to achieve equal status to male counterparts.
That's not fast enough.
This report explores the nuances of female partners and women-led funds—the reality, the opportunities available to us, and the actions we need to take in order to move the conversation forward. The data points to an outsized opportunity to anchor and nurture this new wave of women-led funds, and emphasizes why the time to invest in their potential is right now. Together, we can tackle the inequality in venture funding.
For more on the world's largest global community for women in venture capital to connect, collaborate, and create new opportunities, visit www.women-vc.com
Connect with Sutian on LinkedIn | Connect with Jennifer on LinkedIn