EVE voices wants to honor in this series of interviews, women supporting women. Women who are using their platform, influence and skills to lift up other women. Today, we are speaking to a woman whose life embodies the power of women sisterhood: Marie Christine Nibagwire. She shared her story and call to hope following the civil war in her home country, Rwanda, with our audience at WIL Economic Forum in 2019, and is a great source of inspiration, support, network to anyone interested in develop grassroot women economic empowerment initiatives.
Can you tell us about your journey?
You may remember that I survived the genocide of Rwanda of 1994.  I ran for my life across Rwanda, Congo, Tanzania and ended up first in Kenya.  I was with my daughter who was only 2 years old.  I went to the office of the International Committee of the Red Cross, hoping to get assistance of food, clothes and medical treatments for my daughter. The office didn't have such logistics but they were advertising a job with the qualifications I had. Luckily, after tests and interviews, I was able to get a job. Other Rwandan refugees were living in different slums of Nairobi and I had many friends there, whom I visited and supported as much I could.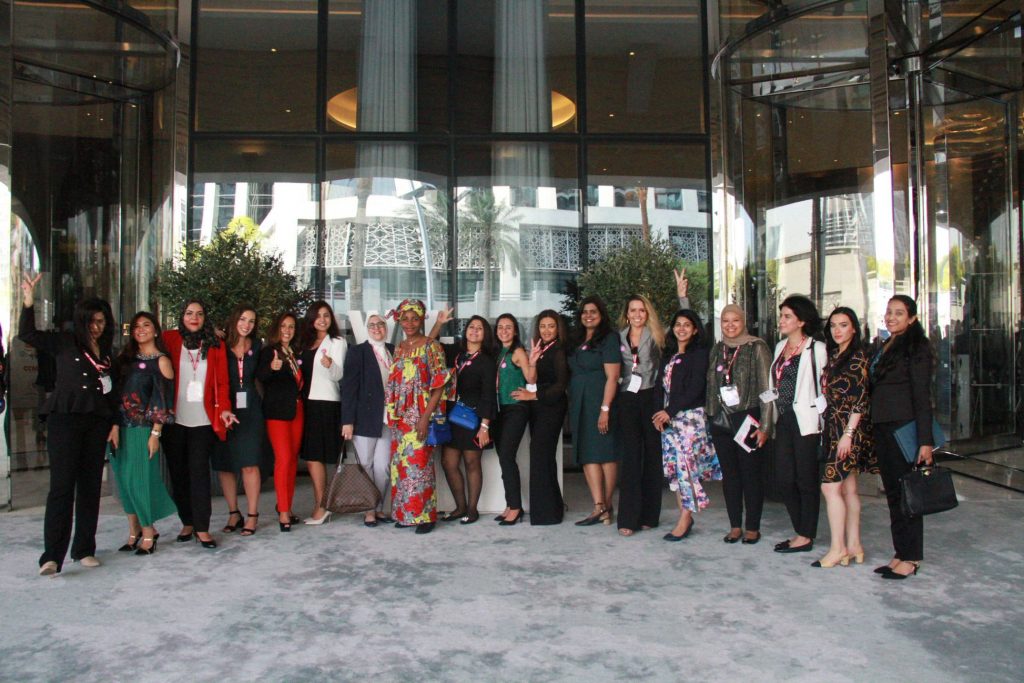 How did your personal experience inspire you to support women who survived similar traumas?
In 1998, I was granted asylum in the UK as a war refugee. Luckily, that same year, I got a lovely job with a train company called Eurostar as a Procurement Secretary.  I had also opportunity to meet other survivors of wars of Rwanda and other african countries who were living in Europe and in North America.  Many of them had trauma and needed care from someone of their background and culture.  In 2001, I resigned from my job so to give my full attention to create Mentoring and Counselling courses to refugees living in Western Europe and North America through an organisation that I founded called Saferefugerwanda.
My fellow friends refugees that I left in slums of Nairobi, started calling me for help.  They needed food, clothes, medical treatment, school fees for their children but they didn't have any social assistance.  At that time, I was active in a church in London and I started fundraising for them, visiting Kenya regularly and taking teams from my church to visit them. We were also mentoring and counselling those who were traumatised. I was making two trips to Nairobi every year.  The needs of these refugees were many, and many of them were young, willing to be equipped to do something that would give them income but also restore their destiny.
In 2012, a group of women from different slums of Nairobi, requested to meet me.  They brought samples of clothes they made using their neighbours sewing machines.  They then asked me to help them with sewing machines, accessories and basic materials to start making  their own business. 
One of them was Joseline Umutesi.Joseline was only 32 years old, with 6 children, no husband and no social assistance. Her younger son Joshua was malnourished, always sick and Joseline was finding it difficult to get the medical treatment for her son and food for all her children, not mentioning the school fees. Other women could leave the slums and look for any job outside but Joseline was stuck. She couldn't leave her suffering son.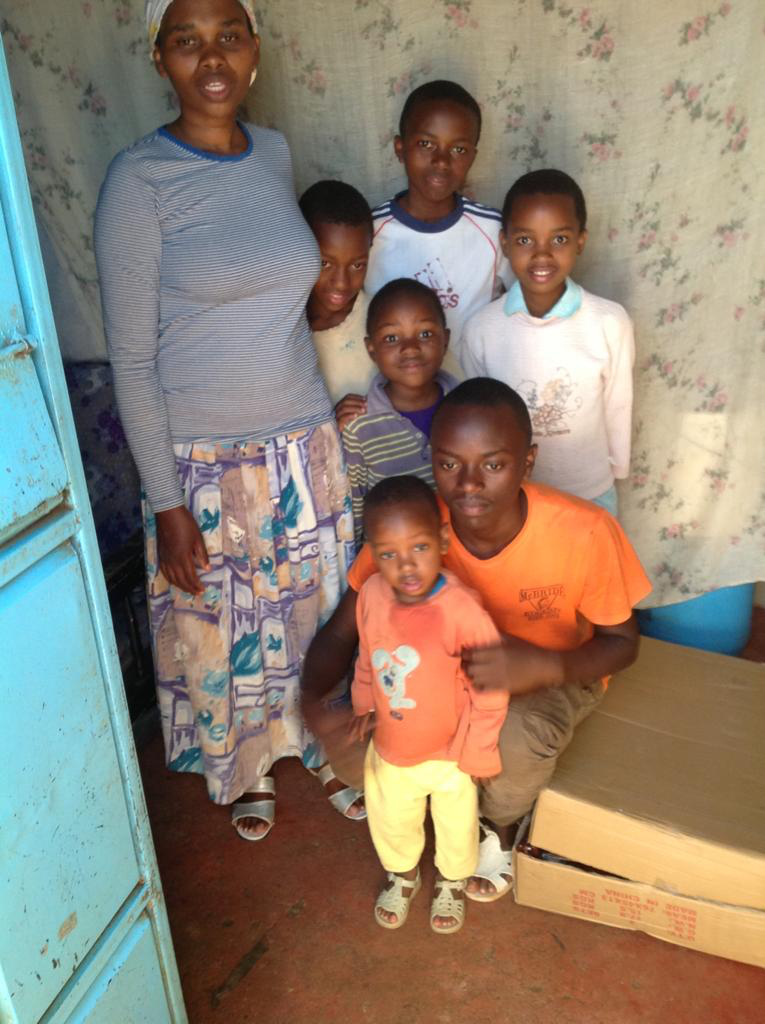 I felt the need for Joseline was urgent.  I straight away bought her a sewing machine, accessories and materials to start making clothes and delivered the machine to her room (you can see the carton containing the sewing machine).  She only had one room for her and her 6 children.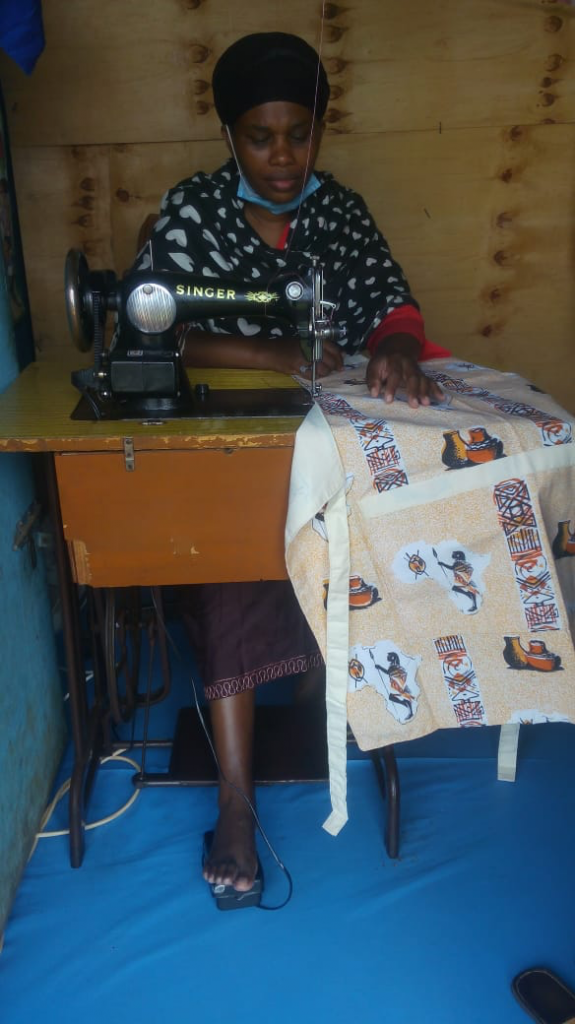 Joseline has been working very hard, from that same room, and has been able to feed her children, pay their medical treatment and try to pay their school fees, though she never gets enough money to do all that, but she is very motivated.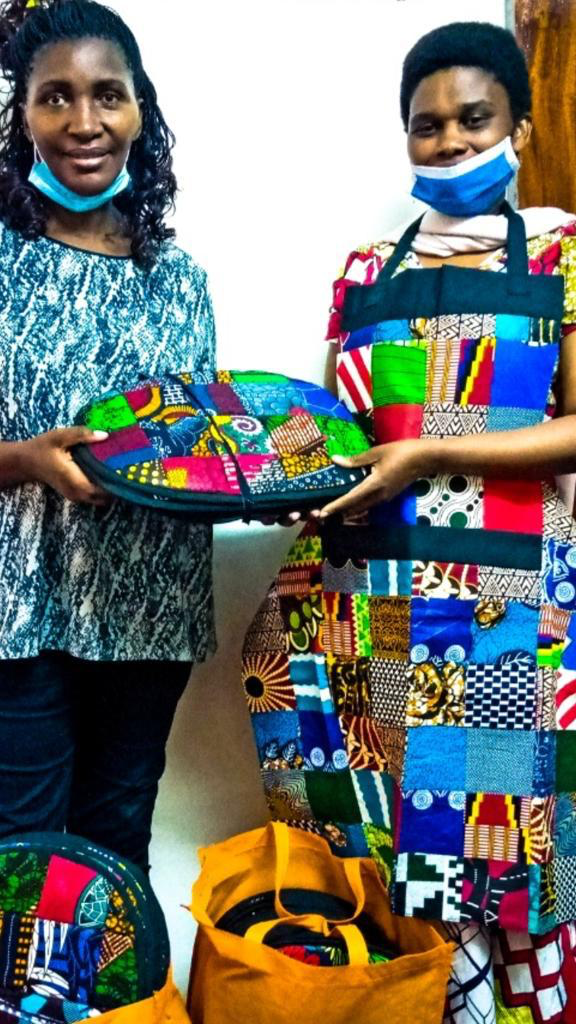 Joseline is very creative.  When she doesn't get enough money to buy materials, she collects thrown pieces of clothes from other tailors and she cuts them according to their colours, makes aprons, bags, sets of table, table mats, kitchen gloves.  Her collection has been bestseller in our christmas and summer sales.
I learned something from Joseline: She not only works hard to make ends meet for her family but she also trains other women who want to learn to sew clothes.  Everytime I go to visit her, I find a woman or a young girl near her learning to sow, and on the following trip, six months later, that trainee has become an expert who needs a sewing machine for her business. I started with 6 women and with the Joseline idea of training, 43 women have received sewing machines and started their businesses. Joseline's example makes me think that if every woman can train an other woman in whatever she is skilled at, we can surely change the world!
Tell us more about your new venture Kumbatia mama? How do you source the products? How do you plan on distributing it?

Kumbatia is a Swahili name meaning Embrace.  Kumbatia mama, means "Embrace a mother".
It is a new venture that was born out of compassion of hard working women of Africa.  My heart went to women refugees and other women from disadvantaged communities of Africa.  
Last October 2020, during Covid-19, I was able to make my annual trip to Nairobi, to mentor those women and was sad to see the side effects of the health crisis on them. They normally would sell their products in markets frequented by tourists, but because of Covid-19, the borders were closed, and such markets were closed.  Those women had products but could not sell them, therefore, they went back to their initial struggle with no food to feed their children, no money for medical treatment, etc…  In desperation, they would sell their products at a very low price (10% of their normal price) to reseller that would sell them when the situation changes and make a huge profit on the back of the hard work of these women.  I felt it was like a modern-day slavery. 
Normally when I visit them, I would bring some of their products and would sell them in sales organised by faith groups or schools in the UK, Switzerland, Belgium, Luxembourg, Germany, Italy and Switzerland. But on that occasion, there was lockdown everywhere in Europe, I couldn't sell their products. Many shops and markets were closed in Europe (still) and many people were shopping online.  The faith groups and schools that used to sell for us were also closed.
Thinking on ways to help those women whose hope was placed on me, I thought of starting an e-commerce platform to sell their products and got in touch with other women from West Africa, Southern Africa and East Africa. They all welcomed the idea of selling their products online and they are excited that their high quality products would be on global market. We all thought for a name that would define them and the majority chose Kumbatia Mama. 
Kumbatia Mama specialises only on African prints and jewellery products, and giving priority to women and girls craftsmanship. We want to encourage them to continue to use their skills and talents. This will not only empower them economically but it will also restore their dignity and protect them from modern-day slavery, human trafficking and other types of violence against women and girls.
How can our audience support Kumbatia Mama?
Kumbatia Mama is a business registered in Switzerland and I am looking for investors and funders for such business, and in particular for women shareholders. We need a capital. As you can imagine, I meet many skilled women in Africa who cannot afford to buy sewing machines to make clothes or accessories to make jewelleries.  I would like to invite you to contribute towards that. 
We have a gofundme page and any donation is very much appreciated.  You may also have skills or contacts that would be useful, please invest in those women.  Maybe you know a company that would donate sewing machines or materials, or you work for an airline company that would give us cheap tickets or help us to transport such products at a low price.  
If Joseline could train and support other women in her situation, I am sure we have more to offer.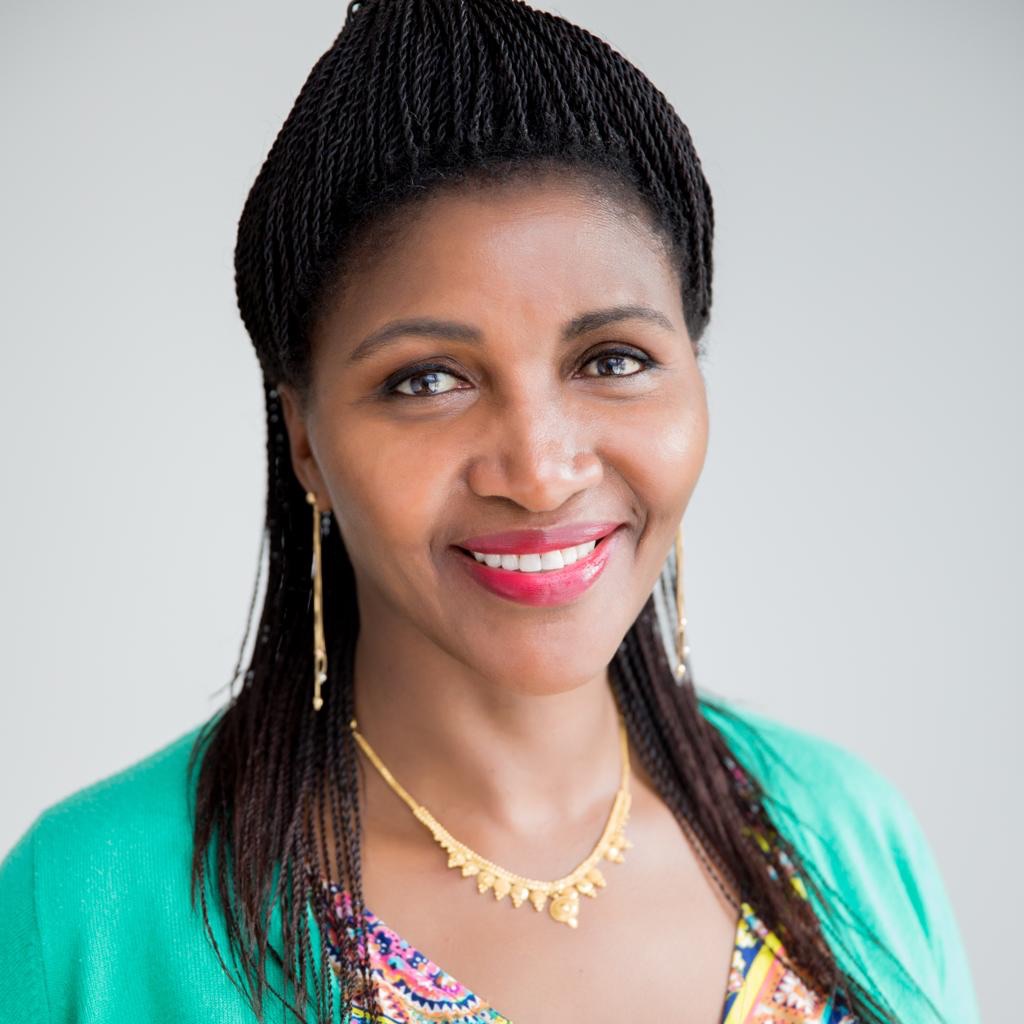 Contact Marie Christine on LinkedIn | Watch Marie Christine's story here